September 9, 2009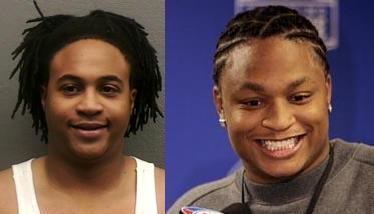 Doesn't Eddie from "That's So Raven" look an awful lot like Lendale White...??? I think they're the same person... hmm. Can you say conspiracy?

Anyway,


Contrary to what some ignorant people may believe… LenDale White is in trouble.
Remember the ugly Terrible towel stomping incident of week 16 last year? Yea well I do too and you know who else will remember that? The entire Steelers squad. Don't think so? We'll see. I promise you that every time White has the ball on Thursday… the Steelers D will be hitting to hurt not just to tackle!
You don't think that players care about that stuff right… they're all professionals and when they're on the field it's not about that petty stuff right? WRONG!
Just ask Rashard Mendenhall.
If you recall the beginning of last year… Mendenhall was a very promising young rookie. He had high hopes for a great first season. Prior to his game against the Baltimore Ravens he sent a text message to a "homeboy" on the Ravens who repeated that text to the entire Ravens locker room.
That text read something along the lines "I'm gonna run all over you guys today".
Petty right? Uh-Uh.
The Ravens D keyed in on Mendenhall and politely broke his ribs and ended his season.
So what do you think that the Steelers will be looking to do to White for the towel stomping incident???
The point is that coaches and players both look for any reason to get pumped up for any and every game. Any extra motivation which is provoked by a single offensive player to help the Defense wanna rip your head off even more… is just flat out ignorant. They already get paid to bust you up, why give them more reason to hurt you?
Mr. Screwhimself aka Lendale White has already been quoted in the Nashville local paper as saying,
If it happens to be there, I'm gonna stomp all over that mother$#&*%@.... If there is a towel in the stands, I will stomp on it. I don't care who gets mad. … If they throw a towel at me, I'm going to kick it and stomp on it. If you don't want your towels [stomped], keep them out of my face."
Good luck with that LenDale.
By the way, the Steelers only took that little towel to the Super Bowl and won again for the 6th time… Scoreboard big guy.
Holla.
Posted by GMoftheYear. Posted In : Editorials